Did you know over 171 million Americans celebrate Halloween each year? One of the most common problems you will face when trying to celebrate this holiday is choosing the right costume. With all of the different costume options out there, you will have to do your homework to find a suitable match. American Wear has a variety of uniform options you will love. Our goal is to provide customers with the custom apparel they need to boost their image.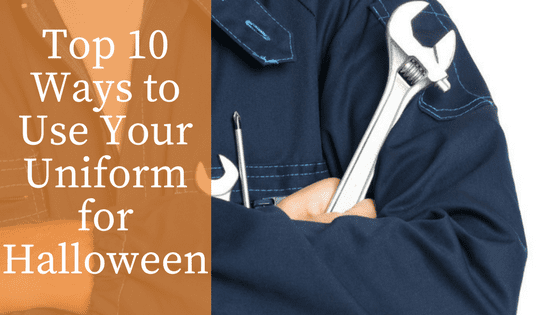 Looking to turn your uniform into the perfect Halloween costume? Keep reading to discover the best uniform Halloween costumes that will be sure to score you the best candy.
Show Your American Pride with a Soldier Uniform
What better way to show your love and appreciation for America's military than by dressing like a soldier this Halloween? American Wear has all of the olive drab attire you need to pull this look off.
Pro Tip: If you really want to wow the neighbors with your soldier costume, you can check out the local military surplus store for some accessories. Finding an Army helmet or even some authentic military-style boots is a great way to authenticate your costume.
Turn Some Wrenches and Heads With a Mechanic Uniform
Most people fail to realize just how important their local mechanic is until they are faced with car repair issues. Dressing up like a mechanic is a great way to create a unique look for Halloween.
Pro Tip: Looking to make your mechanic's costume even more believable and creative? Take some time to put a tool belt together or even rub a bit of grease on your face. This will make it look like you have been turning wrenches in the shop all day.
A Medical Professional Uniform is Just What the Doctor Ordered
Among the most iconic Halloween uniform costumes is a doctor. For years, doctors have been revered as among the most important members of the medical community. Dressing up like one of these medical professionals is not only fun, but it is a great way to pay homage to the important work they do. American Wear has provided medical professionals with a reliable New Jersey uniform delivery service for years. The medical facilities who work with us know they are getting the best possible uniforms for the best possible price.
Pro Tip: Create a higher level of believability when wearing your doctor's uniform by putting on a stethoscope or carrying around a "chart" all night.
Let Your Love For Law Enforcement Shine With a Cop Uniform
The men and women of law enforcement put their lives on the line to serve and protect the communities they work in each and every day. A cop is one of the most popular uniform themed costumes out there and for good reason. With a bit of professional help, you can find a great cop uniform and the right accessories.
Pro Tip: Liven up your cop costume by getting a pair of handcuffs to clip on your belt. You can also wear large aviator shades to channel your inner Erik Estrada from the classic television show CHIPS.
Bring the Heat This Halloween With a Fireman Uniform
Whether they are climbing up trees to rescue animals or putting out four alarm fires, the firemen in this country work hard to ensure the communities that they serve are safe. For most men and women, being a firefighter is something they dream about from a very early age. Looking the part of a firefighter is easy when finding the right costume.
Pro Tip: What better way to authenticate a firefighter Halloween costume than by investing in a helmet or even a fake ax.
Pay Homage to Bill Nye and Neil DeGrasse Tyson With a Scientist Costume
Some of the biggest breakthroughs in history have been made by scientists. For some kids, watching science-themed television shows like Bill Nye: The Science Guy or Beakman's World was a great way to have fun and learn. For people who grew up watching these iconic shows, what better way to pay homage to them than by investing in a scientist Halloween costume.
Pro Tip: Getting some beakers and even a crazy Albert Einstein wig is a great way to make this costume more noticeable at a party.
Fulfill Your Need for Speed With an Airplane Pilot Uniform
If you are like most people, the movie Top Gun is the first thing you think about when hearing the phrase airplane pilot. This iconic movie made a generation of both men and women want to take to the air. Even if you don't have a pilot's license, you can still live out your fantasy of being Maverick from Top Gun by dressing up like a pilot this Halloween.
Pro Tip: Making this uniform themed costume more appealing is easy with a pair of aviator shades and an air mask.
Dressing Up in A Uniform Like Your Favorite Sports Star Can Be Fun
Watching baseball, football and basketball on television is something millions of Americans do on a regular basis. If you are struggling to come up with an idea for a Halloween costume, a great option is dressing up like your favorite sports start. Usually, you will have no problem finding authentic jerseys online emblazoned with the last name of your favorite sports personality.
Pro Tip: Get a few grass or dirt stains on the pants you are wearing with your jersey. This will make it look like you are fresh off of the field.
Avoid Halloween Party Fouls With a Referee Uniform
Looking to increase the amount of rules and safety at your Halloween party? Dressing up in a referee uniform is a fantastic option. Usually, you will have no problem finding a quality referee uniform for a reasonable price.
Pro Tip: Don't forget to get a few yellow flags and a whistle so you can call any party violations you may see on Halloween night.
Keep Things Clean With a Janitor Uniform
Janitors perform some of the most arduous and important work in the world. If you are looking for clean and iconic uniform costume, then dressing up like a janitor is a great idea.
Pro Tip: Be sure to bring a mop and a large key ring with plenty of keys to pull this look off.
Didn't believe us before? It is definitely clear that uniforms make for the perfect Halloween costumes. Transform your look this Halloween and let your inner nurse or janitor shine.
https://americanwear.com/wp-content/uploads/2017/09/iStock-518528589.jpg
1732
1732
awearadmin
https://americanwear.com/wp-content/uploads/2018/10/logo.png
awearadmin
2017-10-11 06:00:05
2019-01-25 05:54:14
Top 10 Ways to Use Your Uniform for Halloween