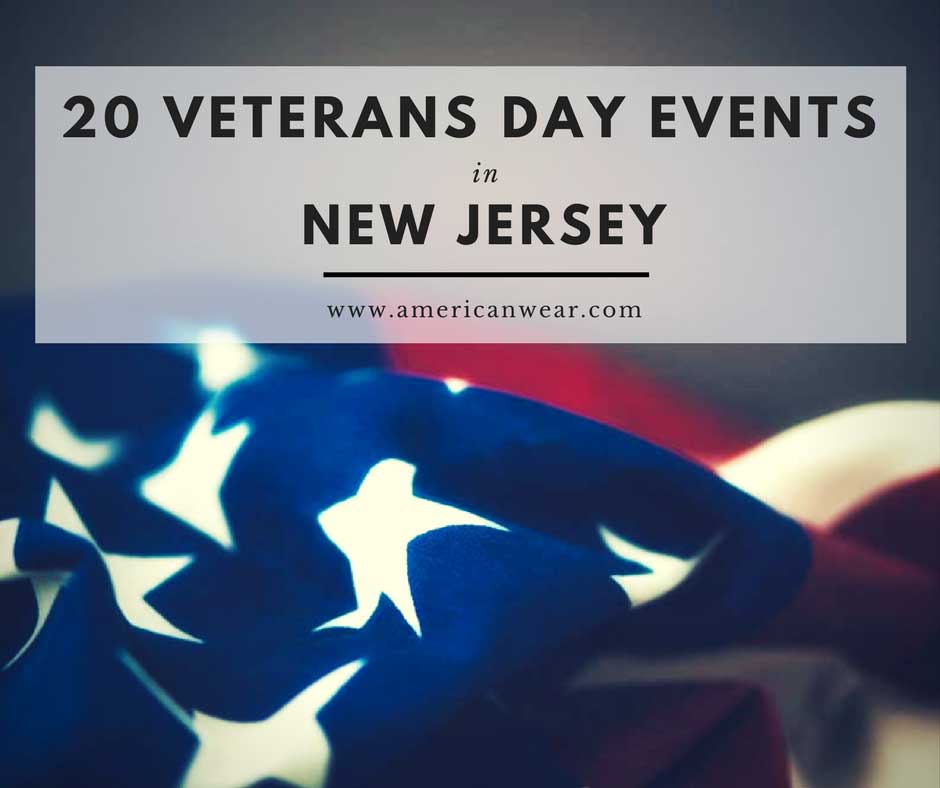 The state of New Jersey is home to more than 400,000 veterans, which makes up about five percent of the total population. This makes the state the 19th in the country for the total number of veterans who live there.
In addition to the veterans themselves, there are also countless spouses and children who have sacrificed while their loved ones served and protected the United States of America. Each year, to celebrate this service and sacrifice, people around the state and country gather to honor and celebrate these heroes. This year, in addition to thanking these individuals for their services, there are a number of events and discounts veterans can enjoy and take advantage of.
Since American Wear, one of the premier uniform rental companies in New Jersey, is dedicated to honoring and giving back to Veterans, the company has compiled a list of the top 20 events and discounts offered in the state this year.
Voices of Valor – A Veterans Day Celebration
This Voices of Valor event is scheduled for the evening of November 13, 2017 at 5:30 PM. The program will feature songs created by veterans, a silent auction, wine, hors d'oeuvres, dessert and amazing prizes for those who attend. Tickets cost between $75 and $100 and the event will take place at 2 Tower Center Boulevard, East Brunswick, New Jersey.
Chimney Rock Inn
On Veteran's Day, active duty service members, as well as veterans can receive a free appetizer or a discount of 50 percent off of their entrée at the Chimney Rock Inn, which is a highly rated, locally owned restaurant in Bridgewater, NJ. This is a great opportunity to celebrate this day with a great meal at a discounted rate.
iPlay America
At iPlay America, located in Freehold Township, veterans and their families can ride free on Veterans Day. iPlay America is an exciting indoor theme park that is providing free rides for veterans on Veterans Day, as well as the Sunday before.
Ceremony at The New Jersey Vietnam Veterans' Memorial
The annual ceremony will occur this year on November 11th, from 11 AM to 2 PM. While the ceremony is designed to honor all veterans, during the event this year, five Vietnam Veterans will also be inducted into the Memory Program. After the ceremony the museum will remain open until 2 PM.
Veteran's Day Ceremony in Bordentown, NJ
At 1 Municipal Drive, Borderntown's Veteran's Day ceremony will take place. During the ceremony, all branches of the military will be represented by their Color Guards and there will be a commemoration for the 60th Anniversary of World War II and the 30th Anniversary of the Vietnam War.
Golden Nugget
Golden Nugget, which is located in Atlantic City, NJ, is offering a 20 percent discount for anyone with a military ID. This discount can be used at several restaurants in the facility, at the spa and salon and in the retail shops on Veteran's Day.
9/11 Memorial and Museum
On Veteran's Day, the National September 11 Memorial & Museum is planning to pay tribute to veterans by hosting a five-day Salute to Service that will last from November 7th until November 11th. During this period, there will be a number of special programs and events, all of which will be free for Veterans to attend. Also, during this event, veteran's family members will receive 50 percent off of museum tickets.
Battleship New Jersey Veterans Day Ceremony
The Battleship New Jersey has planned a Veterans Day Ceremony on the forward deck of the Battleship, which will take place at 11 AM on Veteran's Day. The keynote speech is being delivered by Battleship volunteer and WWII Navy veteran John Quinesso with TAPS and the National Anthem being performed by Nan LaCourte, a bugler and volunteer. During the ceremony a wreath will be cast into the Delaware River in honor and memory of all the veterans who have passed away.
3rd Annual Salute to Military Veterans in Sussex County
This event will take place at the Fairgrounds in Sussex County. The Board of Chosen Freeholders is putting on the event and the public is invited to attend.
Old York Cellars
Located in Ringoes, NJ, all veterans with proof of service of a valid ID can enjoy a free wine tasting. They are encouraged to bring along family members to help celebrate the day.
The Home Depot
This year, veterans can receive a 10 percent discount on any purchase made at Home Depot locations throughout the state.
AARP
Any veteran interested in joining the AARP can receive a 30 percent discount if they do so this Veterans Day. The discount is offered for any annual or multi-year membership or renewal.
World of Beer
The location of World of Beer at 335 George Street in New Brunswick, NJ is offering veterans 25 percent off of their meal, as well as one free beer. The deal is good between the hours of 11:30 AM and midnight on Veteran's Day.
Ikea
Any veterans in the cities of Paramus and Elizabeth in New Jersey can enjoy free entrees on Veterans Day. This discount is good for any veterans, as well as active duty military members and lasts between November 8th and November 11th.
America's Parade
This parade, which takes place in NYC, is the largest Veterans Day Event in the country. The featured service branch for the 2017 America's Parade is the U.S. Air Force and the grand Marshal is Buzz Aldrin. The general public is invited to attend and show their support with a donation or through volunteering.
Red Hot & Blue Restaurants
In Cherry Hill, NJ, reservists, retirees and active duty military members can receive a free entrée when they purchase two drinks and a second entrée at the Red Hot & Blue Restaurant. Proof of service in the military is required.
Shammy Shine Car Wash
Between the hours of 8 AM and 5 PM on Veterans Day, veterans and service members can receive a free car wash. There are locations throughout the northwest portion of New Jersey.
PJ Whelinan's
In the cities of Washington TWP, Medford Lakes, Maple Shade, Haddon TWP, Cherry Hill and Atlantic City, NJ PJ Whelihan's locations are giving veterans and active duty service members a free 10 piece order of their famous wings on Veterans Days.
Parisian Beauty Academy
All veterans can receive 50 percent off of the services from Parisian Beauty Academy in Hackensack, NJ on Veteran's Day this year. It is necessary to bring a valid ID to receive the discount and walk-ins are welcome. However, appointments are also available.
LT Dennis Zilinski Run Walk
In Holmdel, New Jersey, there will be a memorial run for LT Dennis Zilinski, who was killed in action. The run/walk will begin at 8 AM on Veteran's Day and everyone is invited.
This Veterans Day, make sure you show your appreciation for those who make have protected our freedom, and their families who have been put through so much.
https://americanwear.com/wp-content/uploads/2017/10/sFOVaCD7QAqBV0k4T8KO_veterans_day_-image_thumbnail.jpg
172
300
awearadmin
https://americanwear.com/wp-content/uploads/2018/10/logo.png
awearadmin
2017-11-08 06:00:06
2019-01-25 05:52:22
20 Veterans Day Events in The New Jersey Area