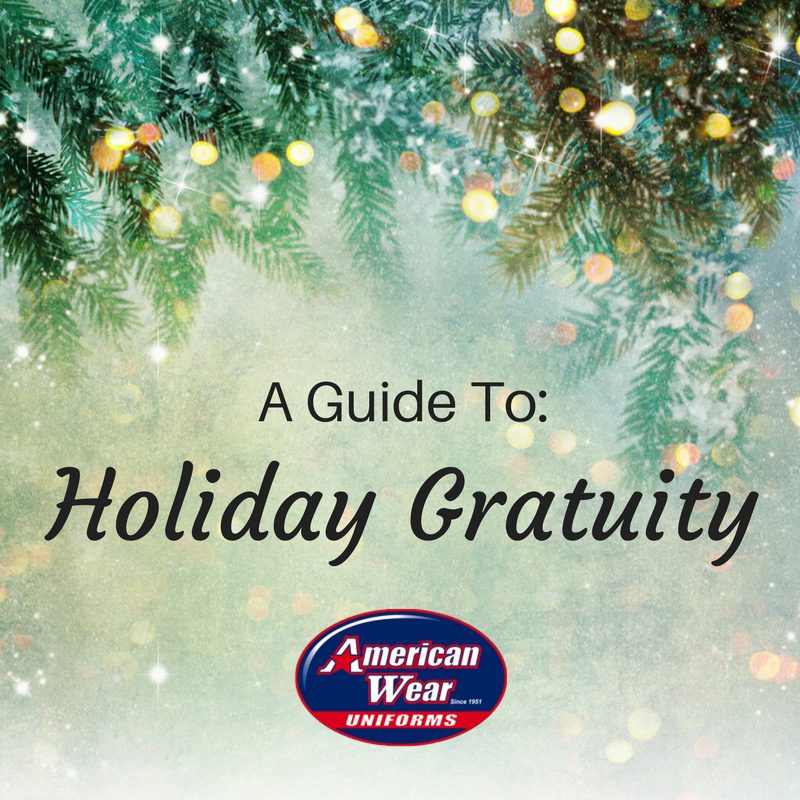 Tis the season for giving! If you are like most people, you look forward to the holiday season all year long. During this time of year, the professionals at American Wear like to give back to the community and our employees. Do you have a number of people in your life that help you throughout the year? Wouldn't it be great to give them a token of gratitude for the holidays? Many people are a bit confused when it comes to holiday gratitude. The following are some of the things you need to consider when it comes to giving this holiday season.
Make a list of the tips you want to give…
The main thing you need to do when trying to figure out who you are going to tip and how much you are going to spend is to make a list. Having a list in front of you will allow you to adequately budget and tip within your means. It is easy to let this process get a bit overwhelming, so just enjoy yourself and the power of giving. Think about all of the different people that go above and beyond for you and your family throughout the year – your mailman, the handyman the babysitter, the school bus driver, teachers, etc. The holidays are the perfect time to show them gratitude and make sure they know that their hard work doesn't go unnoticed.
The Amounts You May Want to Give
Each of the different people in your life that provide you services throughout the year deserve a gift of tip this holiday. If you have a great day care provider, then you may want to think about giving them $20 or $30 or a gift that is equivalent to this amount. Tipping your housekeeper about the same amount is a great idea. If you feel like giving money is a bit too impersonal, then you need to think about getting gifts. Doing your homework will allow you to figure out what the recipient of your gift likes. The time that you put into this process will be well worth it in the long run. Make sure to include a card with your gift as well. Expressing your thanks will go a long way and will show them you really took time out of your day to appreciate their work. Is spending money not really in your budget? Try DIY gifts or bake. It's the little things that count.
Whatever you decide to give the important people in your life this year, the point is that you show them how much they mean to you. The team at American Wear wishes you a happy holiday and want to let you know how much we appreciate your business.
https://americanwear.com/wp-content/uploads/2017/12/holiday-gratuity.jpg
800
800
awearadmin
https://americanwear.com/wp-content/uploads/2018/10/logo.png
awearadmin
2017-12-19 06:14:32
2017-12-19 06:14:32
Ultimate Guide to Holiday Gratuity