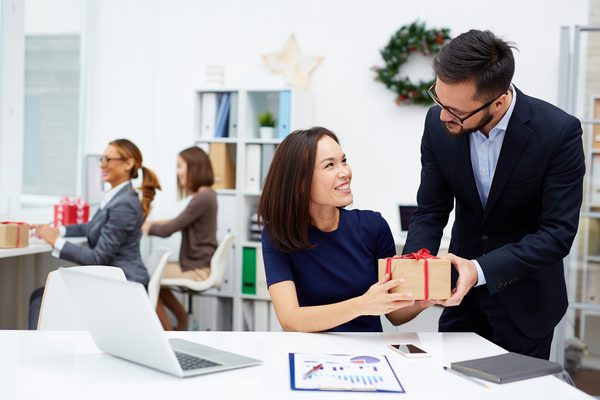 As the company holiday party and the mark of a new year inches closer and closer, you may be wondering what you can do for your employees to truly show them that you care.
You don't want to grab a random stocking stuffer that will only end up in the trash. You want to put in the effort to acquire something meaningful for them, that will remind them how great it is to work at your company and that you've noticed their hard work.
So, what gifts for employees are something they would actually want to receive? We've compiled this list to make your holiday shopping just a little bit easier:
1. A holiday bonus
Regardless of how much your employees make, a bonus that takes their pay into account is always a nice gift. A bonus essentially tells your employees that you've acknowledged the extra work you've seen them put into their job, so you are paying them accordingly for that hard work.
2. More time off
While productivity is crucial in the business space, when individuals start experiencing burnout from their jobs, they really just need a break. Time away from the job can help them clear their minds and bring them back to work with high energy and motivation, making them more productive. Even if you already offer paid time off, your employees will always be grateful for a rest. That makes the gift of time something every employee can appreciate.
3. A subscription box
If you're looking more for physical gifts for employees, you might want to consider putting the gift box in the hands of another company. There is a subscription box today for practically everything, from snacks to meditation crystals to solving fake murder mystery cases. Consider the hobbies and interests of your employees and take a look online at what related subscription boxes are available. Based on pricing, you can either get subscription boxes for your employees to last throughout the entire year, or you can simply purchase one box for the holidays.
4. Gift cards
If you're running behind on getting gifts for employees together though, subscription boxes may take too long to arrive. That's where the handy dandy gift card can make its way into your gift giving. But, try to make sure you are not handing your employees random gift cards though that didn't take much thought. Similar to the subscription box, consider your employees' hobbies and interests. For example, if they love to travel, an AirBnB gift card may be nice to receive.
5. Reusable water bottle
This may sound like a simple gift, but plastic bottles go to waste day-in and day-out, releasing 2.5 million tons of carbon dioxide a year. If your company currently provides disposable plastic bottles to your employees to keep them hydrated through the work day, your employees may appreciate your effort to make the business more eco-friendly by switching over to reusable bottles. Consider this gift if you have an office of individuals who are passionate about environmental issues and have requested that your business make changes to go greener.
6. A uniform service
Most gifts for employees get used up fairly quickly, whether its spending that bonus, using up that extra time off, spending every last cent of that gift card, etc. The best gift you can truly give is something long-lasting, that shows that not only do you recognize your employees' hard work, but that you also care about how their job makes them feel. One thing that can detract from an employees' enjoyment of their job is their work wear. So, consider offering a uniform service to your employees that will provide them with the clothes they should wear and also launder items for them, minimizing their morning stress and their to-do list at home while making sure they always look good.
For a commercial and industrial uniform rental and laundry service that you can depend on, contact us at American Wear at 973-414-9200.
https://americanwear.com/wp-content/uploads/2018/12/holiday-gifts-for-employees.jpg
400
600
awearadmin
https://americanwear.com/wp-content/uploads/2018/10/logo.png
awearadmin
2018-12-07 10:36:45
2019-01-25 05:29:57
6 Thoughtful Holiday Gifts for Employees That They Really Want