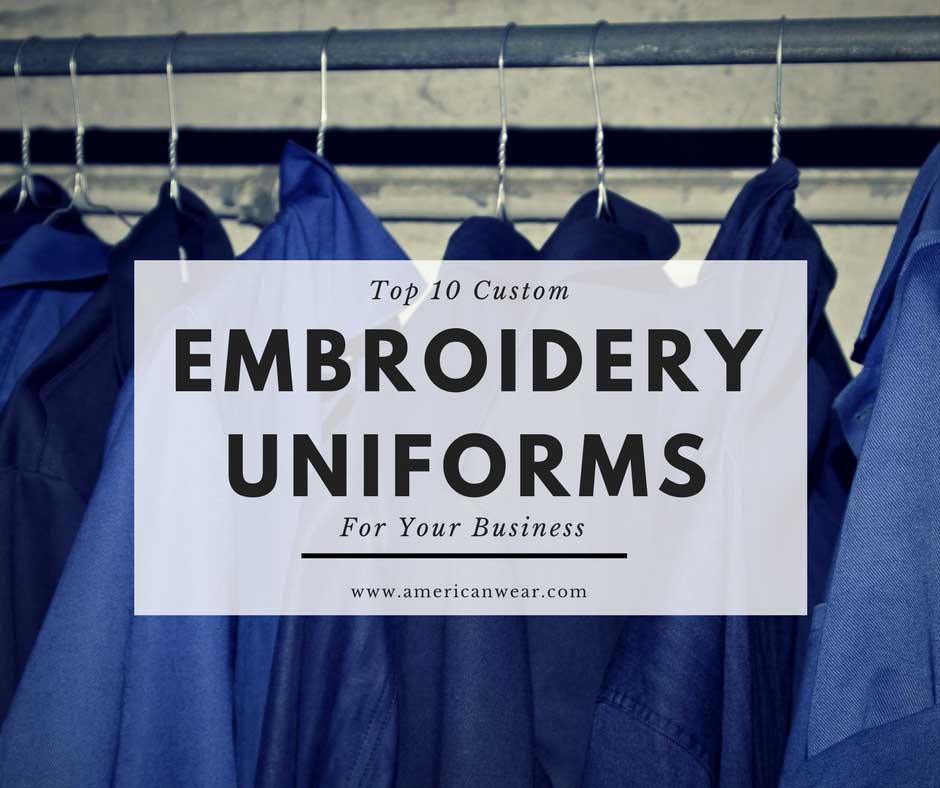 There is something about a quality uniform that both inspires employees and improves the business's image. Customized embroidery uniforms maintained by a professional provider are an effective way to capitalize on their benefits while lowering costs. Here are 10 company representative uniforms to consider: 
Top-10 Customizable Embroidery Uniforms
There's more riding on uniform quality than most business managers are aware of. Here are some brands that offer uniforms that take well to custom embroidery, and what's best about them:
1. Carhartt Is Great for Very Physical Work
Since 1889 the family-owned clothing line Carhartt has been providing customers with durable and appealing apparel. If your business relies heavily on manual labor, then Carhartt clothing is just the right fit. This type of work clothing will be able to take the abuse an industrial or outdoor environment can dish out without showing signs of wear. Allowing American Wear to provide New Jersey custom uniform embroidery is a fantastic way to make this clothing even more eye-catching. With embroidered work clothes, you can project the image of a well-established and reputable company with ease.
2. Kitchen Basix Delivers Excellent Customization
Do you own a restaurant? Are you looking for a way to make your staff look more professional? Investing in clothing from the company at Kitchen Basix is a great way to accomplish the professional look you are after. Their durable clothing is designed to offer both appeal and resiliency. Kitchen Basix's white chef coat is renowned for its comfort and professional appearance and can be embroidered for personalized flare. 
3. Eddie Bauer Offers Attractive and Affordable Options
If you are in the market for comfortable and classy clothing to outfit your employees in, then the Eddie Bauer brand may be your best option. The signature outerwear offered by this company is world-class. The main goal Eddie Bauer offers high-quality clothing for a great price. Having your Eddie Bauer activewear embroidered by American Wear can help you make a great first impression on new customers.
4. Hanes Provides Comfort and Modern Style
The professionals at Hanes provide businesses with both well-made and affordable clothing. The garments made by Hanes are comfortable, making it easy to wear on a daily basis. When choosing uniforms for your employees, you need to make sure they are loose-fitting and comfortable. Having your Hanes uniforms embroidered by our company is ideal when attempting to inform customers about things like your business's phone number or even your email address.
5. Gildan Uniforms Are Resilient
Described as perfect, durable and comfortable, the apparel provided by Gildan is second to none. Countless businesses use their brand of clothing due to the affordability they offer and the wide selection of design options. With the help of American Wear, you can get your logos or any other types of embroidery embellishments put on in a hurry. Putting employees' names on your new Gildan apparel is a great way to make them instantly identifiable to both customers and other employees. Rather than making employees keep up with flimsy and unattractive pin-on name tags, you can use embroidery to make a statement.
6. TM Performance Materials Are Very Tough
Looking for jackets, wind shirts or fleece clothing for your business? If so, the team at TM Performance can help you out. They make their clothing especially for businesses that have to outfit active employees. The products they have are made from appealing and long-lasting fabrics. American Wear can custom embroider the TM performance clothing you purchase for your employees. The right logo or business information is a great way to give yourself a competitive edge.
7. New Era Hats Are Protective and Comfortable
If your employees constantly working outdoors, finding a way to make them more comfortable is a must. One of the best ways to offer more comfort to outdoor workers is by supplying them with quality hats. New Era provides businesses with great looking hats. You can put your logo or any other information you want to on your new hats with our custom embroidery services. Everyone who sees your customized hats will want one for themselves. 
8. Pinnacle Health Custom Uniforms Are the Healthcare Industry's Best
Are you a doctor or nurse looking for a way to increase the level of professionalism within your office? The best way to do this is with new custom apparel from Pinnacle Health. They have been in the medical apparel business for over 65 years, which means they know what they are doing. You can send the level of professionalism your doctor's office has through the roof by having your new uniforms embroidered with the name of your practice. We can also put your staff's name on the uniforms, as well as any contact information you want customers to know.
9. Port and Company Specializes in Laid Back Custom Apparel
If you are a business owner looking to keep your employee uniforms low-key, then Port and Company is the right fit for you. When buying apparel from this company, you can get everything from bags to t-shirts and just about everything in between. Once you have made your purchases, let American Wear customize them for you.
10. Sport-Tek Has an Endless Array of Apparel Options
Getting moisture-wicking clothing that is both comfortable and eye-catching is a breeze with Sports-Tek. They have a variety of customizable options that will give you the one-of-a-kind results you are after. American Wear is here to help you choose the right clothing for your company and then embroider it quickly and correctly.
Purchasing These Uniforms Isn't The Only Option
When they're new, they're great. Good performance, great look, and crisp and clean! As they get older, through stains happen, materials thin, and color fades. Not to mention all of the cleaning and maintenance they require throughout their useable life!
To represent you brand well into the future without ever having to worry about fading materials, there's only one way. Uniform service through a local, professional provider is the most effective and cost-efficient method to secure fresh-looking, consistently cleaned and pressed uniforms.
Contact American Wear for Customized Embroidery Uniform Service
Custom embroidery and image apparel makes your uniforms look profession, clean and allows your brand to stand out from the competition. Get all the benefits without the hassle with American Wear! Contact us here or fill out the form below for a free quote!
https://americanwear.com/wp-content/uploads/2017/10/Top-10-Custom-Embroidery-UniformsForYourBusiness-via-AmericanWear.jpg
788
940
awearadmin
https://americanwear.com/wp-content/uploads/2018/10/logo.png
awearadmin
2017-10-04 06:00:11
2022-04-08 20:33:41
Top 10 Customized Embroidery Uniforms For Your Business