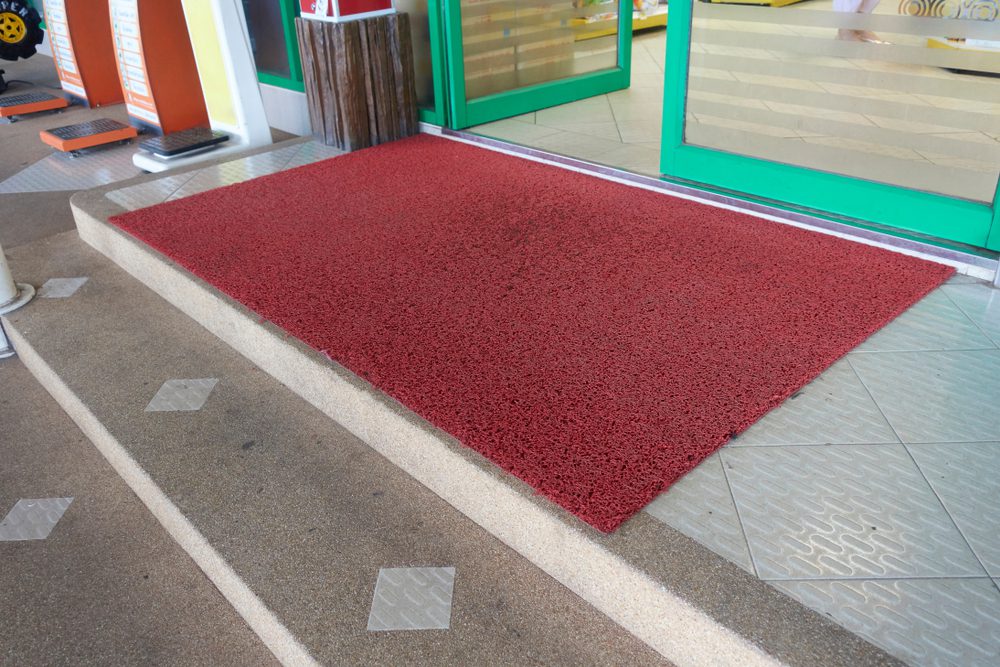 There's a mat out there for every purpose for your business, but knowing which goes where isn't always clear. Using the right one in the right place is important, and this floor mat guide by American Wear will help.
Floor mats can trap dirt, bacteria, and viruses at the door, but only if they are purchased and maintained by a reputable provider. Floor mats by American Wear are ready for anything, and the professionals that look after them are too. In these uncertain times, you need floor mats that keep your business clean. 
Here are the mats that make your business safer and more comfortable:
Classic Mats
There's no going wrong with the classics. No matter the color or theme of your business, American Wear has the style to perfectly fit in. A variety of sizes and colors ensures nothing about these mats will look out of place. 
In this case, classic doesn't mean dated. These beautiful mats are outfitted with sturdy rubber backing and high-quality piling. That makes them safe, reliable, and effective. 
Logo Mats
For a personalized look where it matters most, American Wear has quality logo mats ready for your individual touch. Whether you'd like your company logo, name, or catch phrase made visible to all visitors, American Wear can help. 
Logo mats by American Wear are the same quality mats you'd expect from a quality mat provider, but with your added flair. Rubber backed, precisely engineered, and professionally cared for, mats by American Wear last. Your company representation will too. 
Scraper Mats
Outdoor elements can wreak havoc on floors and customer and employee safety. Scraper mats by American Wear help eliminate the variable of the elements by keeping them outside. 
A high-quality, properly cared for scraper mat is a game-changer for lobbies and entrances that frequently have puddles or dirt. By knocking off and holding outdoor contaminants, scraper mats keep contaminants where they belong–away from your floors. 
Comfort Flow Mats
Kitchens are notoriously dangerous and uncomfortable places. Between spills and the constant standing, there isn't a lot of comfort. Comfort flow mats by American Wear can change that. 
By providing reliable traction in even the most chaotic, spill-prone environments and a soft place to stand, comfort flow mats change the game. 
Waterhog Mats
Water doesn't belong anywhere on the floor of your business. Waterhog mats by American Wear ensure that it doesn't have a choice but to stay in these mats. Highly-absorbent and built to retain, nothing gets away from Waterhog mats. 
Anti-Fatigue Mats
Prolonged standing can cause strain on the legs, back, and feet. That strain can tire out your employees and make them less energetic and attentive to their tasks. Anti-fatigue mats by American Wear reduce the impact that prolonged standing has on employees. 
By cushioning the point of contact with the ground, anti-fatigue mats by American Wear keep your employees comfortable and more energetic. 
Message Mats
For a mat that says something, there's no option more effective than a message mat by American Wear. Whether the message is fun, thematic, or instructive, American Wear has the quality materials and options to fulfill your needs. 
Cushion Mats
If comfort speaks for itself, these mats have a lot to say. With a winning combination of soft, pleasant material and a rubber backing designed for the toughest jobs, there's no going wrong with cushion mats by American Wear. 
American Wear Has the Safe Mats You Need
No matter the scale or nature of your floor-related problem, American Wear has the answer in high-quality mats and service. If you're ready for better mat effectiveness, safety, and better hygiene, give American Wear a call. Above all else, we're here to give you peace of mind.
We can be reached at 973-414-9200, through our website, or our contact portal. Don't forget to ask about a free quote for service. 
https://americanwear.com/wp-content/uploads/2020/04/shutterstock_1197425797.jpg
667
1000
awearadmin
https://americanwear.com/wp-content/uploads/2018/10/logo.png
awearadmin
2020-04-06 14:51:39
2020-04-06 14:51:39
Guide to Floor Mats and Safety by American Wear