As a family-owned company, from time to time we like to introduce you – our customers – to the members of our extended family and tell you about where they come from and what they do here at American Wear. Today, we introduce you to our Service Manager, Steve. As you can imagine Steve wears many hats and manages many people; 22 to be exact.  He also audits routes, handles customer service questions, installation, sales and fleet management. Plus a whole lot more…we caught up with Steve during one of his busy days earlier this month.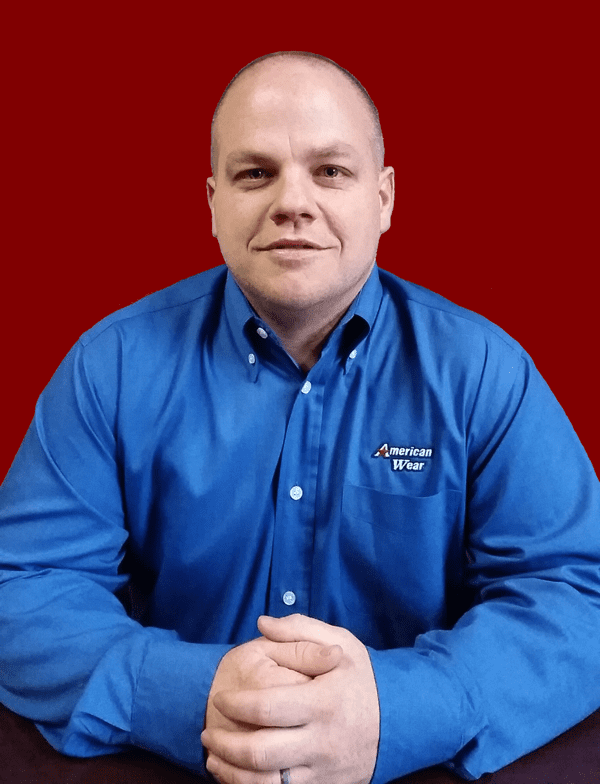 Q: What is your title?
A: Service Manager
Q: What are your responsibilities at American Wear?
A:  Manage 22 employees, audit routes, customer service questions, installations, handle renewals, customer service reports, selling, and manage fleet.
Q: Tell us about your previous positions/education and how they would apply to your customers now?
A: I've done a board spectrum of work since joining American Wear which have helped me become a well-rounded manager, from covering routes doing special deliveries, warehouse work and more.
Q: Where are you originally from?
A:  I was born in Red Bank NJ, November 1st1981
Q: Fill in this blank…when I'm not working you can find me__________?
A: Watching sport, movies, and hanging out with wife and son.
Q: How did you get into the uniform rental industry that you are in now?
A: I saw an American Wear truck back on May 1st2001 and spoke with the driver Dell.  I met with John and Gary and was hired on June 1st, 2001. I'm proud to say I've worked very hard over the years. I take my job very serious and have from day one.
Q: What are you most excited about in your new position?
A: I get excited about having the opportunity to deal with different customers on a daily basis. This makes every day different, and this keeps things interesting.
Q: What do you want your customers to know about you?
A: I feel every customer is equally important which is why we strive for 100% satisfaction each and every day.
Q: What's the best way for customers to reach you?
A: I welcome customers to reach me on my cell 973-356-2612 or by email Steveh@americanwear.com.
https://americanwear.com/wp-content/uploads/2016/01/American-Wear-Meet-Steve.png
399
600
awearadmin
https://americanwear.com/wp-content/uploads/2018/10/logo.png
awearadmin
2016-01-27 11:50:38
2019-01-25 07:27:59
Meet Our Service Manager, Steve!