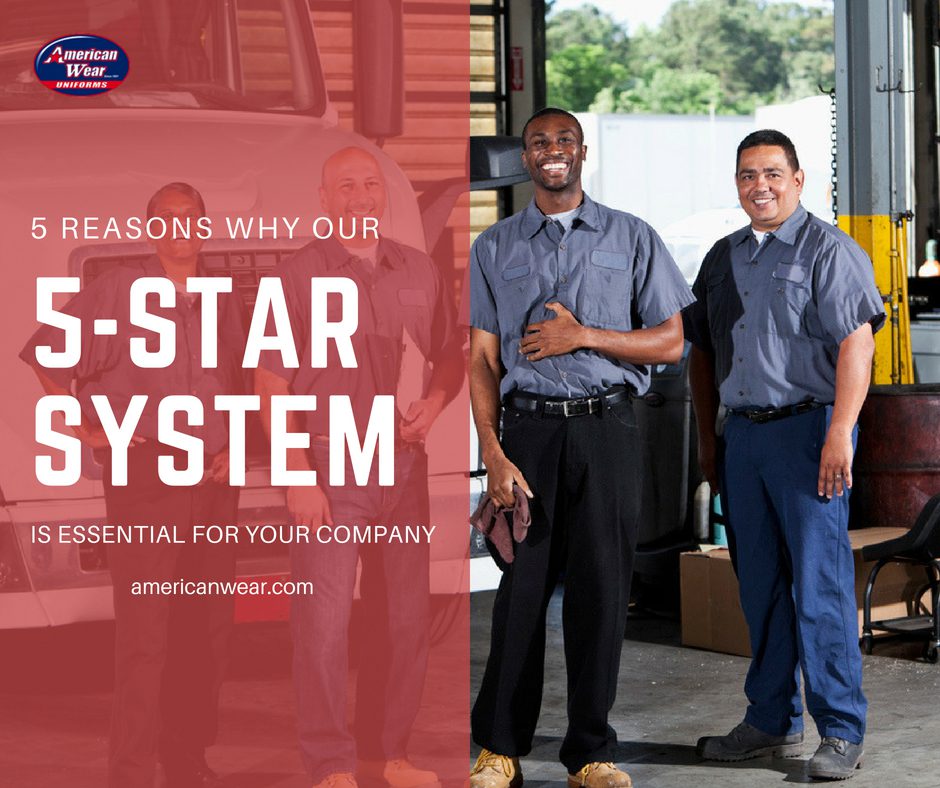 American Wear has been in business for over 60 years, and in that time we've come across a lot of business owners who were frustrated with their custom uniform suppliers. They complain about the lack of customer service and personalized attention to their unique business needs.
If this sounds like you, American Wear is your solution. Our family owned and operated business is dedicated to your success. To prove how we're different, we've developed a 5-Star System that breaks down all the benefits of using American Wear. So, what is this system and how can it take your business to the next level?
Our 5-Star System got its name because there are five ways that American Wear goes above and beyond for your business.
Star-Image System™
At American Wear, we know that you need to work with vendors that take the time to get to know your business. When you work with us, you'll be assigned an image consultant who's there to ensure we're always meeting your needs and delivering the best service. They're available to guide you through the uniform process and offer expert advice. They'll provide you with personalized attention you would never receive with a large, national corporation.
Experienced and Independent
Unlike some larger custom uniform distributors, American Wear cares about your business. We're business owners ourselves, so we understand your unique needs. No one has more experience or cares about your business success more than we do. Most of our leadership team and many employees have decades of experience in the business and span multiple generations.
StarTrac™ Garment Control
A uniform mishap can set your business back, which is why we developed StarTrac™ Garment Control. This quality control system guarantees that your uniforms will always be high-quality and exactly what you need.
All-In Pricing Program
Tired of hidden fees or paying for services that you don't use? That will never be a problem at American Wear. Our all-in pricing program guarantees that you'll know every cost upfront and will never be charged hidden or unnecessary fees.
Complete Customization
At American Wear, we customize your uniforms to fit your needs, not the other way around. No matter what type of uniforms you require, we'll create a program that works for you. We spare no detail in designing and delivering your uniforms to your exact needs.  
Why American Wear?
While all five points of the star are important, our business philosophy really breaks down to providing full-service and customized branding. From uniforms to floor mats, we'll make sure that every aspect of your business in on-brand and professional. We know that appearance is everything to potential customers.
Another thing we pride ourselves on making our process quick and painless. Business owners have a lot on their plates, but with American Wear, the last thing you'll have to worry about is your company's image. Our image consultants will come to your business, help you determine what you need and deliver it at a great price, quickly and efficiently.
If you're frustrated with your current uniform supplier and ready to receive personal attention to help grow your business, contact us today.
https://americanwear.com/wp-content/uploads/2018/06/5-star-system-blog-text-1.jpg
788
940
awearadmin
https://americanwear.com/wp-content/uploads/2018/10/logo.png
awearadmin
2018-06-20 15:03:50
2018-06-20 15:03:50
Why Our 5-Star System is Essential for Your Company