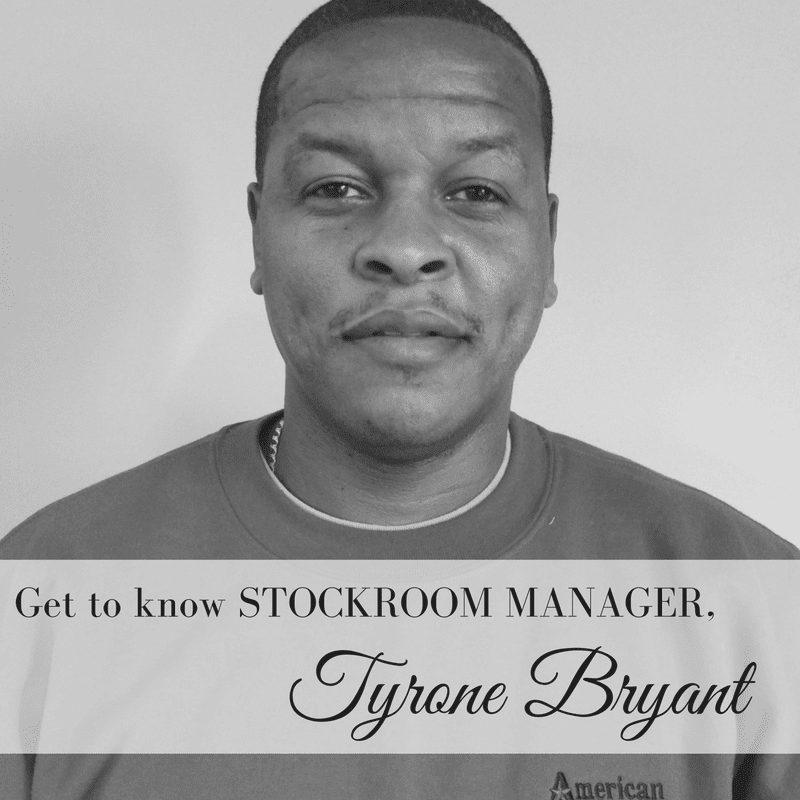 Last month, we got to know American Wear stockroom supervisor Michael Carlos. This month, we sat down to talk with stockroom manager Tyrone Bryant to talk about his history and to find out more about how he spends his time away from American Wear. Without the team of dedicated workers that we have, it would be nearly impossible for us to exceed the expectations our customers have. Here are some of the things that we found out about American Wear stockroom manager Tyrone Bryant.
What Type of Work Do You Perform?
The first thing that we talked about was what his day to day responsibilities are. "Stockroom staffing, purchasing orders from different vendors and also making sure orders go out on time," is how Tyrone described his job with American Wear. If Mr. Bryant was not in the stockroom making sure that our client's orders were taken care of, we would not be able to achieve the high level of customer service we are known for.
How Did Tyrone Get His Start In This Industry?
The next thing we wanted to know is how Tyrone Bryant got his start in this industry. Tyrone graduated from West Side High School in Newark, NJ. He started his career in the uniform rental business shortly thereafter. "I started in this industry back in 1994, working for Aramark for 20 years before coming to work for American Wear," he said. Tyrone knows what it takes to keep the American Wear stockroom running like a well-oiled machine.
Family and Football are Tyrone's Passions
When not at work, Tyrone can be found either playing with his family or watching San Francisco 49ers football on television. The son of Edwina and Ishmael Bryant, Tyrone was taught from a young age just how important family is. Tyrone says he loves working for a family owned business because of the guidance he is able to receive from the owners of the company. He says his main concern is keeping the level of customer service offered by American Wear at peak levels.
Email Tyrone at TyroneB@AmericanWear.com to find out more about what he can do to help your business get the best uniforms around.
https://americanwear.com/wp-content/uploads/2016/11/Get-to-know-PLANT-MANAGER.png
800
800
awearadmin
https://americanwear.com/wp-content/uploads/2018/10/logo.png
awearadmin
2016-12-05 06:40:30
2016-12-05 06:40:30
Image Matters: Getting to Know Stockroom Manager, Tyrone Bryant