Uniforms can be worthwhile in a variety of industries and almost any business can benefit from them. One fascinating industry that has almost always used uniforms is the automotive industry. Men and women who work on cars have constantly changed their styles over the years, so let's take a look at the progression of automotive uniforms!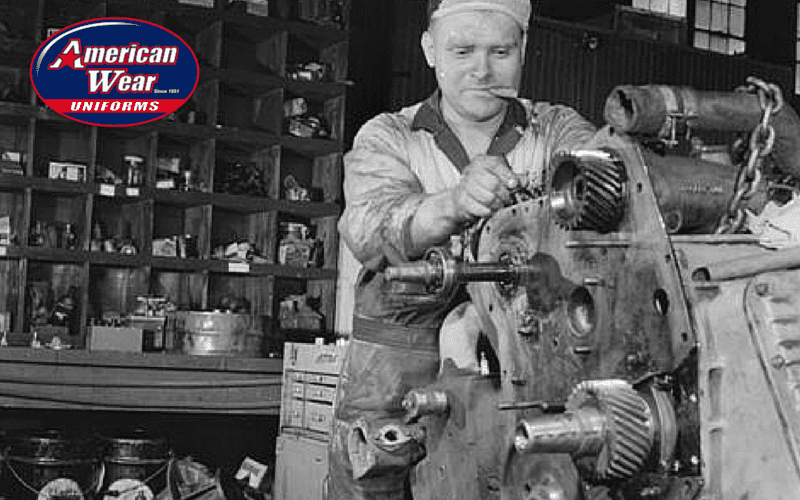 As far as we can look back at mechanic uniforms, men and women have always needed one thing: a durable, protective garment. The fabric of these garments has changed ever so slightly through the years, from denim, to thick cotton, to the modern flame retardant fabrics we see today.
Throughout the years, the necessary elements of the automotive uniform have not changed much. A mechanic's uniform needs pockets to hold tools used over and over during the day. Classic name embroidery and company logo embroidery has also stood the test of time. Sometimes we see the name and company logo on a patch, sewn on to the work shirt, and sometimes we see the embroidery placed right on the shirt itself.
When we take a look back at automotive uniforms of yesteryear, we see a lot of "coverall" style uniforms. Or, more accurately stated, the mechanic's jumpsuit. These early uniforms were created to protect an employee's arms, legs, and underclothes from getting grease, oil and other automotive-related byproducts on them. We still see this style of uniform in many automotive garages today, as these coveralls protect an employee's underclothing from the grease and oil workers are exposed to when working on cars.
A little later in history, mechanics graduated to a long-sleeve work shirt made of thick material to protect them from the messy automotive environment, worn with thick work pants or jeans. The graduation from coveralls to a work shirt allows the company to save a little money on uniforms and gives mechanics the freedom to wear pants that are most comfortable to them.
After mechanics graduated to work shirts, there was a move away from long-sleeved shirts. Today, many mechanics don't feel the need to wear long sleeves to protect them from their working conditions, and a short-sleeve work shirt has become a more comfortable uniform. Though short-sleeves offer less protection for the arms, they still offer effective protection while working on cars. Almost all automotive uniforms today still include an embroidered name patch on one breast and a brand logo patch on the opposite breast of the shirt.
Today, mechanics can choose from a wide range of uniforms including industrial work pants, short and long-sleeved shirts, coveralls and work jackets. Just as short-sleeved shirts provide a certain level of comfort in summer months, lined and unlined work jackets protect mechanics from the elements of their jobs while keeping them warm in the winter months.
At American Wear, we want to make sure our customers are protected and comfortable, that's why we offer a variety of automotive uniforms that suit every need. As for the embroidered patches that have stood the test of time, we are excited to offer fully customized embroidery to keep that classic look on all your automotive uniforms.
https://americanwear.com/wp-content/uploads/2016/04/How-to-Create-a-1.png
500
800
awearadmin
https://americanwear.com/wp-content/uploads/2018/10/logo.png
awearadmin
2016-04-04 06:34:47
2019-01-25 07:17:25
A History of the Uniform: Automotive Industry