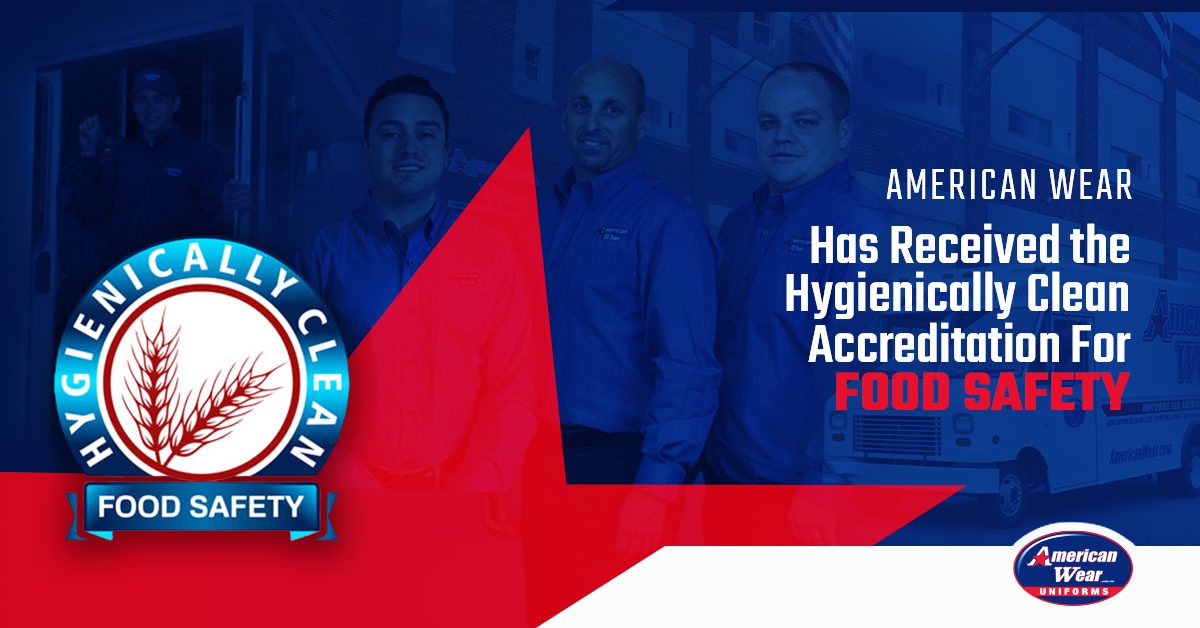 Since 1951, American Wear has been the best uniform service in New Jersey and large swathes of New York, Pennsylvania, Connecticut, and Delaware. Now our clients can rest even easier knowing that we have the TRSA's stamp of approval. With the Hygienically Clean Food Safety Accreditation on our resume, American Wear has proven itself to be your ideal uniform partner.
Here is What the Hygienically Clean Food Safety Accreditation Means for You
This accreditation is a symbol of our 70 years of excellence in the industry. We have always strived to provide our customers with:
Reliable Laundry Service
Only companies that are compliant with major regulators like the Centers for Disease Control and Prevention (CDC) and the Occupational Safety and Health Administration (OSHA) have this accreditation. Cleanliness is important, especially in industrial food processing facilities, which is why these regulators create standards in the first place.
American Wear ensures uniforms that are properly clean and ready to go at all times. We have equipped our laundry facilities with the most advanced machinery, sophisticated tracking systems, and experienced specialists in the industry. That way, no stain, rip, or tear ever passes our notice without being swiftly dealt with. 
Consistent Stock
A Hygienically Clean Food Safety accredited business ensures not only reliable laundry but consistent stock. After all, it doesn't matter how clean your uniforms are if you don't have enough at the ready!
That's where American Wear stands out. Our reusable, well-laundered uniforms are perfect for our clients because they weather any storm. We only ever have to create new uniforms for new clients or to replace lost items. Uniform loss does not happen often either thanks to our detail-oriented tracking and documentation process. Our clients never have to worry about shortages no matter what is going on with the economy, global supply chains, the weather, or politics.
More Time and Fewer Expenses
The main benefit of going with a uniform service as opposed to purchasing, maintaining, and stocking your own inventory is convenience. The TRSA only awards the Hygienically Clean Food Safety Accreditation to businesses that can reliably and safely provide that convenience to their customers. 
American Wear focuses on meeting regulatory requirements so you don't have to worry about them. No more sick workers or customers, hefty fines, or maintenance fees! With our reliable laundry service and consistent supply of food service uniforms, our clients have more time to focus on what matters most to them. They also save money on major expenses that any business can use in these unstable times. Going with a Hygienically Clean Food Safety accredited provider like American Wear really is a no-brainer!
Contact American Wear for Hygienically Clean Uniform Service
The Hygienically Clean Food Safety Accreditation is the assurance you need that you're working with the right people. And you can start today! Call us at (973) 414-9200 or fill out this form for more information on how we can help you.
https://americanwear.com/wp-content/uploads/2021/12/American-Wear-Blog-Image-Accreditation-for-Food-Safety-V2.jpg
628
1200
awearadmin
https://americanwear.com/wp-content/uploads/2018/10/logo.png
awearadmin
2021-11-28 16:23:56
2021-12-01 16:25:03
American Wear Has Received the TRSA's Hygienically Clean Food Safety Accreditation