As a family-owned and operated business, we look at our employees as not just individuals who show up to work every day, but as members of the American Wear family. We like to give our customers a glimpse inside that family, too, and let them meet some of the people who make American Wear the company it is.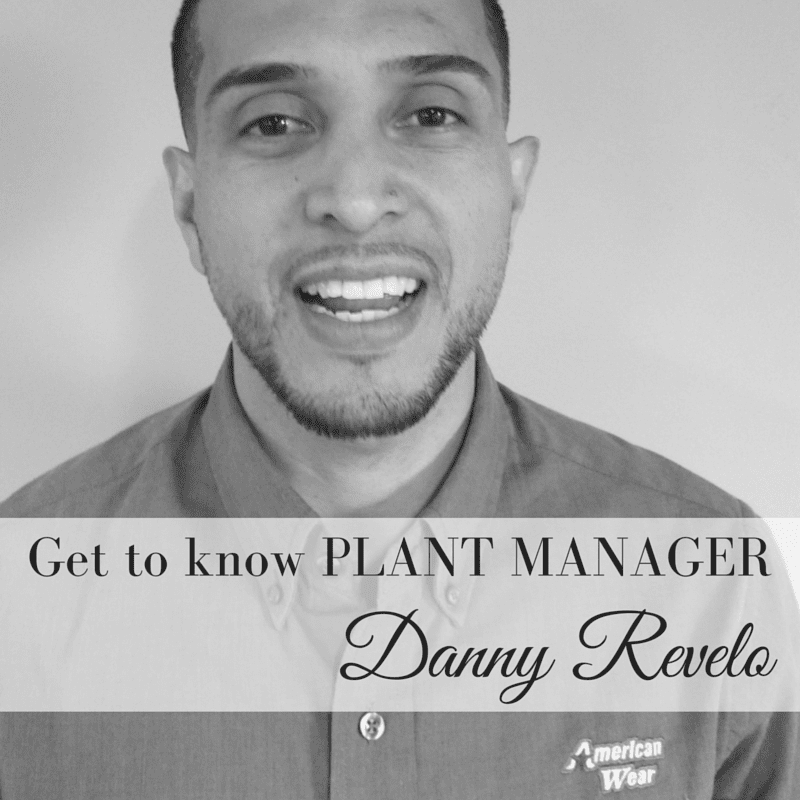 Today, we meet Danny Revelo, plant manager and 17-year American Wear employee. As a plant manager, Danny supervises 30 employees and handles quality control, inventory, and equipment maintenance, among other responsibilities.
Danny's rise through the ranks with American Wear is a great example of hard work, dedication, and loyalty. Originally from Quito, Ecuador, he began with the company as a janitor in 1999. Soon, Danny decided to attend English classes, and after completing the course, he was promoted to production supervisor. While holding that position, he enrolled in college and pursued a degree in mechanical engineering. Once he graduated, Danny was promoted to plant manager.
Not only does Danny's journey show the possibilities available to all employees at American Wear, it gives him a unique ability to understand the operation from top to bottom. Because Danny has worked at all levels of plant operations, he knows exactly what goes into each and every job, giving him a broad perspective and base of knowledge as a manger.
For Danny, working for a family-owned business means everything.
"At American Wear, I'm not treated like some interchangeable manager," he says. "American Wear has given me all of the support and opportunities that have helped me to grow as a manager, and more importantly, as a person. This is reflected in the service that we provide to our customers."
Danny knows the most important part of American Wear's success: the customers.
"The customers keep us in business," he says. "We try our best every single day to make sure that they are fully satisfied with the service that we provide."
When he's not at work, you can find him watching and playing sports, or hanging out with his wife and baby daughter.
To contact Danny Revelo, call 862-621-8816 or email him at dannyr@americanwear.com.
https://americanwear.com/wp-content/uploads/2016/05/Get-to-know-PLANT-MANAGER-2.png
800
800
awearadmin
https://americanwear.com/wp-content/uploads/2018/10/logo.png
awearadmin
2016-05-09 06:36:28
2019-01-25 07:11:43
Employee Spotlight: Danny Revelo